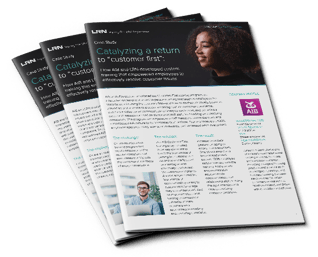 When AIB realized its "customer first" culture was starting to erode, they tapped LRN to develop custom training that would energize employees and re-instill their confidence in putting people at the center of their work. Together, we created an interactive program that taught employees the importance of putting the customer first—and how to do that effectively.
This case study examines the impact of three training components:
An online game to practice resolving real-life customer complaints.

A video about communicating clearly to customers.

A in-person session focused on developing soft skills for handling and resolving complaints.